Community
A Conversation in Conservation
In 2021, Fairmont Kea Lani, Maui commemorates its milestone 30th anniversary with a commitment to plant native trees along the slopes of Haleakalā. Friends, family and guests of the resort are invited to join in the celebration by sponsoring trees in honor of their ʻohana (family). Each donation supports the cost of growing one tree from a seedling along with the long term care involved to ensure it thrives in its natural environment. The trees planted will include Koa, Sandalwood and ʻŌhiʻa. To support the health of these trees, other native plants including Māmaki, Maile and Hala Pepe are also planted to encourage the biodiversity of the area. Fairmont Kea Lani has partnered with Skyline Conservation Initiative for the planting of these trees.
We took a moment to sit down with Joe Imhoff, conservationist and program manager with Skyline Conservation Initiative, to learn more about what his organization is doing to rehabilitate Hawai'i's native forests.
Why is reforestation needed on the slopes of Haleakalā?
Joe Imhoff (JI): The slopes of Haleakala have been affected by some of the most devastating extinction rates in the entire USA. More than 70% of native vegetation has disappeared. Both visitors and residents alike are disconnected from the true ecological identity of this Upcountry montane mesic forest environment where once stood a mighty ʻōhiʻa, Koa, and Sandalwood dominated canopy. This pristine environment once spanned from the sub-alpine shrublands of Haleakalā National Park, all the way down to the Fairmont Kea Lani Resort. Remnants of this majestic forest have since been pushed into the depths of the steepest of gulches and behind tall fences that are beyond the reach of non-native grazing animal pressure (wild boar and feral axis deer.)
Since 2002, Skyline Conservation Initiative has been leading an ambitious mission to reestablish a functioning native ecosystem and sanctuary forest along Pōhakuokalā Gulch in Kula Maui that is easily accessible for people to be able to visit and experience a landscape that would be somewhat recognizable to the original Polynesian voyagers who first discovered Hawaiʻi. Most native habitats outside of Haleakalā National Park are off limits to the majority of Maui's visitors and residents.
What are some of the benefits of restoring native eco-systems and habitats on Maui?
JI: Considering 2/3 of all native bird, insect, and plant species have gone extinct, the remaining in-tact native landscapes are becoming very rare. This is putting significant strain on the watershed functionality and the ability to recharge underground aquifers in Upcountry Maui. A healthy native forest works like a big sponge on the landscape that attracts and captures fresh water. The leaves of bigger canopy trees like koa extract moisture and make it drip rain from the passing clouds at higher elevations. The roots of ʻŌhiʻa trees can crack apart solid lava rocks and create pathways for rainwater to enter the subsurface and create a viable water table. The forest canopy would slow down the clouds and make them saturate the soil for prolonged periods of time on a daily basis. The lands just above Kīhei and Wailea were once more of a wetland than the extremely dry desert it is today.
In the absence of native forest, there is now a heat thermal effect on the landscape where the sun heats up the soil and the heat bounces upward that causes clouds to break apart. Conservation and restoration of native forest ecosystems is essential for restoring a healthy watershed that allows people to be able to take showers and enjoy swimming in pools in Wailea.
What are the biggest threats to Hawaiʻi's native forests today?
JI: It is sad to say that there are unfavorable conditions for native ecosystems to be able to exist in Maui. Remaining native habitat is 100% dependent on human intervention and management to assure its existence into the future. Some of the biggest threats to Hawaiian native ecosystems today are invasive weed encroachment and feral animals grazing pressure. Weed control, animal control, and fence building are the biggest annual expenses of the most successful conservation and restoration programs throughout the Hawaiian Islands.
How long will this project last? Where do you see the focus of the conservation efforts now versus in 5 years from now?
JI: Skyline Conservation Initiative has a long-term partnership with landowner Haleakalā Ranch and a signed vision statement that states "all lands restored will be for habitat for future generations including threatened and endangered species." If we do a good job over our lifetime, this forest will have the tools it needs to regenerate itself indefinitely We are basically trying to give CPR to a very special forest system that needs our help. We are in the process of constructing 2 miles of pig and deer proof fence to protect 46 acres for continued restoration. Over the next 5 years we will be adding biodiversity to the forest understory including extremely rare threatened, and endangered species. The success of our expanding restoration program over the past 19 years has opened many doors of opportunity that lead to collaborative partnerships which allow us to take on bigger and bigger field work projects each year. The sky's the limit for our ambition and innovation, however funding is our most limiting factor. We have figured out the equation and metrics of what it takes to restore native habitat in the most challenging of conditions. It is essential to continue leveraging resources with amazing project partners like Fairmont Kea Lani who directly supports and encourages visitors to fund planting native trees in Maui. The tourism industry can play a very powerful role in restoring endangered habitats on Maui and the "Rooted in Aloha" program is the perfect opportunity.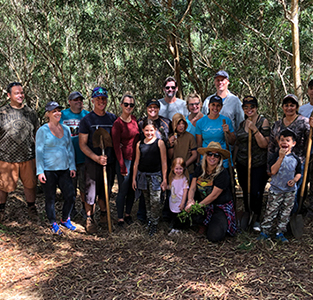 How will the Rooted In Aloha initiative from Fairmont Kea Lani help support the goals of Skyline Conservation?
JI: The Rooted in Aloha Reforestation Initiative is an amazing opportunity for visitors of this very special island to make a solid impact and play a direct role in restoring and preserving the native habitat that makes Maui such a unique place on earth. Funds raised by the Rooted in Aloha Reforestation Initiative will be applied to the costs of growing and purchasing native tree and shrub saplings and the long term care needed for successful establishment. The visitor industry impacts the island in many ways. This collaborative conservation partnership is an amazing way for visitors to help make the most positive impact possible by directly funding the reestablishment of native ecosystems. Come to Maui and support the planting of a native tree. During the wet season (winter months 2021-2022) Skyline Conservation Initiative has an ambitious goal of planting 5,000 native plants this year and it would not be possible without your support!
How do people visit the Pōhakuokalā Gulch restoration project?
JI: The best way to experience the native habitat at the Pōhakuokalā Gulch Community Forest Restoration Project area is by signing up for a Zipline tour with Skyline Eco-Adventures Haleakalā course. This zipline tour is located in the center of the restoration project area. In 2002 there was only 1 surviving native Koa tree in the entire area. Today there are more than 14,000 trees and shrubs that have been planted within this amazing landscape. Visitors now get to zipline into the canopy of a true Hawaiian forest that has also become home to many rare Hawaiian honeycreeper forest birds.