Guest Services
Let us help you create your ideal Hawaiian vacation. Our Guest Services team is solely dedicated to your needs, making sure every detail is perfect long before you arrive. Our top priority is creating a perfect experience, with warm island hospitality and intuitive service.
Our Guest Experience Team would be happy to help you arrange a custom-curated itinerary of island adventures and resort experiences.
Villa Services
Our dedicated Villa Manager can assist with onsite Cabana, Dining and Spa reservations.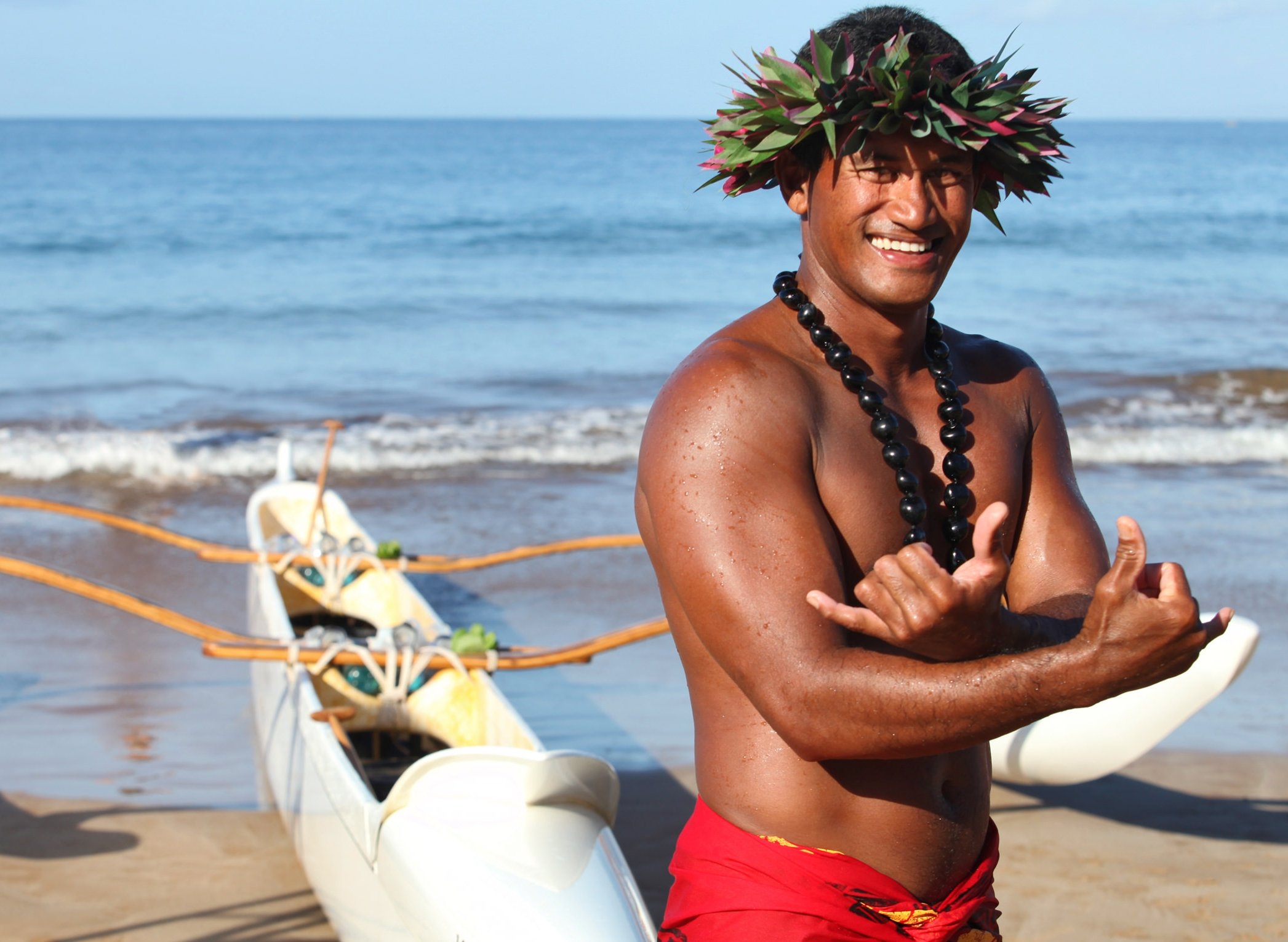 Culturally-Rooted Hospitality
Hoʻokipa (to host with compassion) is one of our core values, and we take that commitment seriously. It is our kuleana (privilege and responsibility) to share authentically local experiences with our guests.
Additional Guest Services
Independent babysitting services are available on the Island of Maui. Please contact the Concierge desk for details.
The Bell Staff are available at the Porte Cochere in the Main Lobby of the resort. They will be happy to assist you with valet parking, porterage and luggage storage.
Hawaiʻi's only luxury all-suite and villa resort offers signature service in the cabanas located at the resort's three pools. Advanced reservations are highly suggested. Reservations cancelled within 24-hours are subject to a full charge. For more information please contact our Concierge Desk at 1 808 875 4100 extension 290, or by email.
Avis rental cars are available at the hotel for daily and weekly rentals. Corporate discounts through Avis Car Rental may apply. Contact our concierge desk for more information or to reserve a vehicle.
Check-in time is 4:00pm
Check-out time is 12:00pm
The Concierge staff is available daily in the Main Lobby of the resort. They can help you arrange golf and dinner reservations and give you directions to major attractions.
Courtesy car transportation within the Wailea area with convenient access to nearby shopping, activities, dining and championship golf.
Guests have easy access to five elevators located throughout the resort.
The Housekeeping staff will be pleased to provide rollaways, extra pillows, blankets, towels, etc. to ensure comfort for all our guests.
Laundry services are available through the Housekeeping Department including same-day dry cleaning. Complimentary washers and dryers are available on guest suite floors.
Pacific Dream Photography will make moments turn into lasting Maui memories for families and couples visiting the resort. Guests are invited to participate in a complimentary photo session with professional photographers specializing in candid, classic portraiture, and artistic photography. Capturing these moments in time is priceless. Call 808 875 2200 for details.
Overnight valet parking is available for $40/night
Overnight self-parking is included in the daily resort charge
At Fairmont Kea Lani Maui we understand your dog is part of your 'ohana (family) and we warmly welcome them to join you during your stay. Guests traveling with canine companions from outside of Hawai'i must follow the State of Hawaii's Animal Quarantine Law when traveling with pets. For more information please contact Hawai'i Animal Industry Division at 808 483 7171 or click here.
A cleaning fee of $40* USD per day will be charged, for a maximum of two pets. $15 of this fee will be donated to the Maui Humane Society who is dedicated to protecting and saving the lives of Maui's animals. Service Dogs are always welcome at no charge.
When visiting the resort, dogs must be leashed while on property and if left unattended in the suite, must be kept in a carrier. Pet-sitting services* are available if booked a minimum of 24 hours in advance through our concierge. Additional charges will apply.
*Rate exclusive of tax. Please note, dog sitting services are available on request and through a third party provider. Breed restrictions may apply.
For the convenience of our guests, Fairmont Kea Lani has bundled our most sought-after amenities and services into one daily resort charge of $50 USD per day, plus tax includes the following amenities and services:
Overnight self parking for one vehicle per suite
10% discount on Fairmont logo merchandise in MAKANA Market + Cafe
Inspire Your Energy Fitness Classes
Pool and beach amenities including sunscreen and after sun care
Experience session with Pacific Dream Photography (reservation required, photos available for purchase)
Unlimited North America Long Distance calls (Canada and America)
Unlimited business internet access*
Keiki welcome amenity
One reusable Pathwater bottle per registered guest, per stay, to be filled at purified water stations located throughout the resort.
One hour snorkel equipment (two sets per suite per day, resort use only)
Hawaiian Canoe Experience**
Weekly Cultural Activities
*Members of ALL – Accor Live Limitless receive Premium internet service and 10% off at Willow Stream Spa (exclusions may apply).
**A 24-hour cancelation policy applies with a 'no show' fee of $65 per guest.
Wheelchair accessible suites are available at the resort. These suites feature wide doorways, lower peepholes, lower climate control and lower closet pole. Handicap parking stalls are available in the front and back of the resort.
Fairmont Kea Lani
Discover authentic Hawaiian cuisine and culture, an award-winning spa, three swimming pools, wellness programs, and much more – all within walking distance.
Kula Lavender Farm
On a fragrant mountainside overlooking ocean and mountains, Ali'i Kula Lavender Farm is a sanctuary of serenity. Stroll the 13.5 acres, sniff 25 varieties of the purple bloom, take a 30 to 45-minute walking or cart tour, and enjoy a picnic in the fresh air. And of course, take home some farmstead lotion, soap or shaving gel. To make advance tour reservations, call 808 878 3004.
Polo Beach
Walking Distance: 4 minutes
Upper Pool
Couples and families flock to this conveniently located oasis with a 140-foot water slide that ends at the Lower Lagoon Pool.
Walking Distance: 2 minutes
Lower Lagoon Pool
Enjoy cool towels and fresh fruit offerings on a hot Maui day at this large swimming pool that wraps around the Pool Pavilion.
Walking Distance: 3 minutes
Adults-Only Tranquility Pool
Settle into a chaise lounge at our serene tranquility pool.
Walking Distance: 3 minutes
Willow Stream Spa
Uplift your spirit and restore your mana (life energy) with a visit to this oceanside oasis.
Walking Distance: 1 minute
Kō Garden
Gather family and friends in our beautiful garden surrounded by exotic flowers, towering palms and flickering torches – the perfect setting for any celebration or special occasion.
Walking Distance: 1 minute
Hoku Lani
A private and romantic table for two awaits at the ocean shore, with panoramic vistas of the Pacific and neighboring islands.
Walking Distance: 5 minutes
Twilight Dinner
This intimate dining experience for up to six guests includes four courses, select wines and personalized keepsake menus.
Walking Distance: 1 minute
In-Suite Dining
Get to know Maui through the very best — that's 'nō ka oi — of its distinctive flavors and exotic ingredients.
Nick's Fishmarket
Treat yourself to Hawai'i's best seafood under a twinkle light-illuminated awning with views of the resort's gardens.
Walking Distance: 1 minute
Kō Restaurant
Explore the intriguing and mouthwatering cultural fusion that is Hawaiian culinary history at our much-lauded signature dining restaurant.
Walking Distance: 1 minute
AMA Bar & Grill
Order up casual local favorites like sushi, salads, fish sandwiches and a five-farm burger for a relaxing poolside lunch by the upper lagoon pool.
Walking Distance: 1 minute
Makana Market + Cafe
Join us for tasty island fare and one-of-a-kind gifts at MAKANA Market + Cafe.
Walking Distance: 1 minute
Kea Lani Restaurant
Framed by beautifully landscaped terraces and a cascading fountain, Kea Lani Restaurant features an alfresco dining room that shows off the beauty of Wailea, Maui.
Walking Distance: 1 minute
Paeahu Terrace
An outdoor space surrounded by lava rock is ideal for receptions, breakfasts or dinners.
Walking Distance: 3 minutes
Gazebo
Beautifully situated at the foot of our three-tier Royal Fountain Terrace, the Gazebo provides an exquisite garden setting.
Rotunda
This circular meeting space features a decorative dome shaped ceiling.
Walking Distance: 3 minutes
Lokelani
This small meeting spaces are perfet for a planner's office.
Lehua
This small meeting spaces are perfet for a planner's office.
Pacific Boardroom
This boardroom features a beautiful koa wood table.
Hibiscus
Boasting 3,360 sq. ft. and a crystal chandelier, this room will empress guests.
Pikake
Create an intimate setting for your group via air-walls in Kea Lani ballroom.
Protea
Create an intimate setting for your group via air-walls in Kea Lani ballroom.
Orchid
Create an intimate setting for your group via air-walls in Kea Lani ballroom.
Plumeria
Create an intimate setting for your group via air-walls in Kea Lani ballroom.
Kea Lani Ballroom
This newly renovated ballroom is perfect for a magnificent affair.
Walking Distance: 1 minute
Royal Fountain Terrace
Surrounded by landscaping and architectural enhancements, this space has a fountain.
Walking Distance: 2 minutes
Palm Court
Located in the center of the hotel, this is the quintessential backdrop for any event.ev
Walking Distance: 3 minutes
Pacific Terrace
Overlooking Polo Beach with Maui's Sister islands in sight, this venue speaks for itself.
Walking Distance: 5 minutes
Pre-Ballroom Foyer
This covered outdoor function space is located directly outside the Kea Lani Ballroom.
Old Lāhainā Luʻau
Learn about Hawaiian culture and enjoy a spectacular, high-energy evening of traditional Polynesian dance, music, cuisine, history, legends and demonstrations.
Lāhainā Town
Once a mid-1800s whalers' village, modern-day Lāhainā is a relaxed, sunny oceanfront West Maui hub with a fun surf town ambiance.
Mamaʻs Fish House
This friendly Maui spot offers creative wood-fire pizzas with Maui pineapple and kalua pork, plus organic salads.
Flatbread Company
This friendly Maui spot offers creative wood-fire pizzas with Maui pineapple and kalua pork, plus organic salads.
Pāʻia Town
This small former 1870s plantation village is authentic and funky. It's filled with windsurfers, but also with a growing element of design, wellness and food-minded local entrepreneurs
Pipiwai Trail
Hike the four-mile round trip of this beautiful trail on the southeast side of Haleakalā National Park to take in a spectacular view of the 400-foot Waimoku Falls.
Waiʻānapanapa
Picnic on the black sand beach of this remote stretch of coastline that offers camping, fishing, hiking and seabird-watching.
Maui Arts & Cultural Center
If you want to see Hawaiian talents live on stage, take in a concert or ballet, it's got to be this place — Hawaiʻi's best and most comprehensive visual and performing arts complex.
Maui Tropical Plantation
Take a 40-minute guided tram ride right through the fields to get an overview of Hawaiian agriculture at this 120-acre working plantation and preserve.
Wailuku Town
Hawaiian history permeates this colorful town — an interesting mix of the young and old, with its cute wooden storefronts, longtime mom 'n pop stores, stylish cafes and coffee houses, classic tropical scenery and backdrop of the dramatic ʻĪao Valley.
Flyinʻ Hawaiian Zipline
Views are unparalleled of both the North and South Shores, along with towering Haleakalā, from Maui's longest zipline. Choose from eight ziplines over 2.5 miles at this canopy adventure covering The Valley Isle's West Maui mountains: from a 250-foot ride to a whopping 3,600 feet.
Īao Valley State Park
See Maui's famous landmark, the 'Iao Needle, at this lush 4,000-acre park and historic site, just went of Wailuku.
Oʻo Farm
Located in Upcountry Maui, this breathtaking eight-acre farm offers specialty tours that include gourmet meals made from fresh, natural products.
Kula Country Farm
This covered market is well-known for its fresh local fruits and vegetables, including pick-your-own strawberries, and flowers, preserves and baked goods.
OCEAN Vodka Organic Farm and Distillery
This organic farm and vodka distillery with a focus on sustainability offers tours, tastings and a casual open-air cafe on the slopes of Haleakalā.
Hāliʻimaile Distilling Co.
This Maui craft distillery offers vodkas, rums, whiskeys and gins made from local Hawaiʻi ingredients.
Maui Wine
Taste the estate-grown wines, including sparking, pineapple and raspberry dessert offerings, at this scenic vineyard in Kula, Maui.
Kula Botanical Garden
Hundreds of colorful, exotic blooms, plants, shrubs and trees are on display at the bucolic botanical garden in Kula created by a local landscape architect and still family run.
Visit Website
On a fragrant mountainside overlooking ocean and mountains, Ali'i Kula Lavender Farm is a sanctuary of serenity. Stroll the 13.5 acres, sniff 25 varieties of the purple bloom, take a 30 to 45-minute walking or cart tour, and enjoy a picnic in the fresh air.
Makawao Town
This former plantation town is artsy, so make time to peruse the galleries, clothing stores, boutiques and artist studios.
Haleakalā Summit
At 10,023-feet, Haleakalā ("House of the Sun") volcano houses one of the planet's largest dormant craters. Hike, bike or horseback-ride the Mars-like red landscape looking out for endangered flora and fauna.
Walking Distance: 60 minutes
Whalers Village
Visit this Maui shopping mall for brand-name shopping, dining, entertainment and special events.
Queen Ka'ahumanu Center
If you've got serious shopping on the agenda, spend the afternoon in Kahului at Maui's largest mall. This shopping and entertainment destination has the island's only department stores, Sears and Macy's, and 100-plus other retailers and dining venues. Shop trendy island fashions and national brand names such as American Eagle Outfitters, Victoria's Secret, Claire's and Vans.
Maui Brewing Companyʻs Brew Pub
Experience the inventive craft beer and brewery-to-table dining of Hawaiʻi's largest craft brewery.
Monkeypod Kitchen
Enjoy ice-cold beer and delicious meals at this family-friendly gathering spot for foodies and beer lovers.
Walking Distance: 33 minutes
Pita Paradise
Head to this casual restaurant for delicious Greek and Italian cuisine featuring fresh ingredients from Maui's farms and waters.
Walking Distance: 33 minutes
Wailea Golf Club
Play 18 holes at both Golf Magazine and Golf Digest's pick for the country's best courses. Choose from three celebrated championship courses, famed for their gorgeous tropical island scenery, with the Pacific's top outdoor training facility and two full-service pro shops. This is Hawai'i's largest and most acclaimed golf facility — and it's just minutes from the Fairmont Kea Lani, Maui resort.
Walking Distance: 19 minutes
Cafe OʻLei
This family-owned Maui restaurant offers fresh, local food for lunch and dinner, including a fresh sushi bar.
Matteoʻs Osteria
This Italian restaurant offers authentic Italian cuisine from award-winning Chef Matteo Mistura, named Maui's Best Chef 2016.
Walking Distance: 26 minutes
Tommy Bahama
Enjoy fresh seafood and island ingredients at this island escape restaurant in Wailea. Reservations are recommended, but walk-ins are welcome.
Walking Distance: 19 minutes
Wailea Blue Course
A Hawaiian classic, this 18-hole course combines outstanding golf with impressive views of the ocean, islands and the Mt. Haleakalā volcano.
Walking Distance: 19 minutes
Wailea Emerald Course
This scenic par-72 course has ocean views from every hole and is considered one of America's most female-friendly courses.
Walking Distance: 22 minutes
Wailea Tennis Club
Work on your game at this award-winning tennis club with 11 courts, premier facilities and a full-service pro shop.
Walking Distance: 24 minutes
Snorkeling at Molokini Crater
Snorkel the clear-blue sheltered waters around this striking partially submerged volcanic caldera — a marine preserve teeming with coral and thousands of fish and sea creatures found nowhere else — that resulted from an eruption 230,000 years ago. Ancient Hawaiians fished here and you'll feel as if you're inside an aquarium. Swim with green sea turtles or scuba dive along the sheer back wall plunging 300 feet down.
Maui Golf & Sports Park
Hit the amusement park with the kids — or just kids at heart — for an afternoon of old-fashioned fun and games. There are tropical island bumper boats, two 18-hole miniature golf courses, a 25-foot climbing wall and bungee trampoline.
La Perouse
Just south of Wailea, Keoneʻōʻio Bay, or La Perouse Bay, in Ahihi Kinau Natural Area Reserve is a must for snorkeling. Explore the little coves and tide pools in the turquoise water along the sheltered rocky northern end shore, and look for spinner dolphins and wild goats. Few visit this beautiful historic area, dubbed Maui's Forbidden Coast, named after the French naval officer/explorer who landed here in 1786. The Haleakalā volcano erupted here in 1790; see the archaeological ruins and monument to the Hawaiian villagers who perished on the black-lava shore.
Polo Beach Lawn
As the largest outdoor function space, Polo Beach Lawn is a breathtaking ocean front venue, complete with a built-in stage and sound system. This location can be used for a luau dinner, a picnic under the stars, or a teambuilding event.
Walking Distance: 2 minutes
Loading map ...