Community
Kea Lani Heartist Spotlight – Irene A.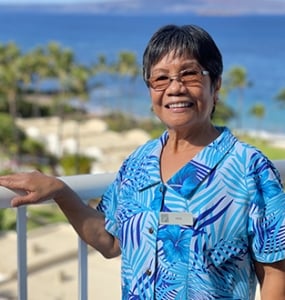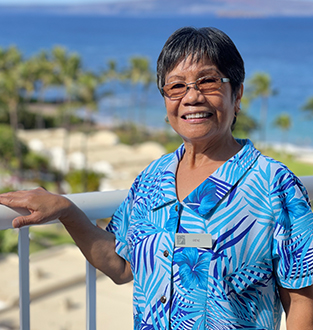 In celebration of this year's International Housekeeping Services Week, Fairmont Kea Lani is proud to recognize our outstanding housekeeping team and the hard work they put forth to keep the resort clean and beautiful for each of our Heartists (colleagues) and guests. We know that without the housekeeping department, there would be no functioning hotel. On behalf of the entire Fairmont Kea Lani 'ohana (family), we extend our gratitude and thanks to our wonderful housekeepers.
To spotlight one of our special Heartists on the housekeeping team, we are proud to share Irene's story.
Meet Irene!
Irene joined the Kea Lani 'ohana on July 3, 1992—within the first year of the resort's opening. This year, she is celebrating her 29th anniversary of providing exceptional housekeeping services to Fairmont Kea Lani. We had the opportunity to chat with her about her role and working in Housekeeping with Fairmont Kea Lani for nearly three decades. Irene enthusiastically shared that her absolute favorite part of her job is being able to interact with guests from all different backgrounds. She loves creating lasting relationships with families visiting from around the world. Irene notes that many guests often return year after year and it has been extremely rewarding to watch as their families and children grow. Irene is frequently recognized by hotel guests for her warm service and the stories she shares. Fellow colleagues often remark on her signature positivity and kind personality.
Throughout her 29 years at Fairmont Kea Lani, Irene remarks that her most beloved memories include twice being nominated as employee of the month by fellow Heartists for her hard work and dedication to her job.
Irene truly lights up when she speaks about her family, friends and her housekeeping career. She passionately shares that Fairmont Kea Lani has become a second home to her over the years. She regards her fellow colleagues on the housekeeping team as her extended 'ohana.
Bed Making Challenge | Irene A. & Michael Pye (Fairmont Kea Lani General Manager)

Mahalo to all of our wonderful Housekeeping Heartists!