Destination
9 Fun Ways to Spend a Rainy Day on Maui
While rain is considered a blessing in Hawaiʻi and is integral to supporting Maui's tropical, lush landscapes and native ecosystem, it probably isn't what you had in mind when you booked your vacation. Nor should it be. The island averages about 276 days of sun or partial sun each year, and according to the Rainfall Atlas of Hawaiʻi, it gets little more than 36 inches of precipitation. Besides, even our wettest days usually include sun-speckled reprieves complete with opportunities for beach strolls. But should you find yourself having to bend your sunshine plans to accommodate Maui rain, skip hiking, the road to Hana, and waterfall swims, which can be unsafe with sudden rainfall. Instead, check with our concierge about driving conditions then consider the following wonderful ways to enjoy the island. Surrounded by fresh, rain-washed tropical air and endless rainbows, you'll experience firsthand the traditional Hawaiian saying, "Uwe ka lani, ola ka honua" ("When the sky weeps, the Earth lives.")
1. Explore Maui's Museums
When the sun is out, it's easy to spend all your island time enjoying the beach, pool, or hiking trails. A rainy day provides an incentive to get to know Maui a little better through exploration of its many historical museums.
In Wailuku, visit Hale Hōʻikeʻike at the Bailey House for artifacts from Hawaiʻi life pre-western contact. On the way, you can stop in Puʻunēnē to tour the Sugar Museum, which showcases the history and heritage of Hawaiʻi sugar production and its consequential multiethnic plantation life.
If a rural upcountry drive and contemporary local art sounds like a good time and road conditions are safe (check with your concierge), head to Makawao's Hui Noʻeau to browse their latest exhibitions. To learn about the area itself, you can also see if Makawao History Museum is open to visitors.
On the west side of Maui, the heritage and history of the 1800s missionaries and once-burgeoning whaling industry are explored through the Old Lāhainā Prison, the Baldwin Home Museum, the Wo Hing Museum and Cookhouse, and the Old Lāhainā Courthouse. The latter fronts the largest banyan tree in the United States; it's an astounding sight as well as a fantastic photo op, weather permitting.
2. Go Shopping
Since almost all malls and prime shopping streets are open-air, you'll want to bring an umbrella or rain poncho. Regardless, you could easily spend days exploring the stores on Maui.
If shopping is your priority, head to The Shops at Wailea or Wailea Village just down the road from Fairmont Kea Lani, or take a drive to The Outlets of Maui in Lāhainā or Whaler's Village, Kāʻanapali's open-air mall. Or get to know a new area of the island by exploring a small-town shopping street, such as Baldwin Avenue in Pāʻia or Makawao Town, which are great for women's boutiques, chic bikinis and art galleries or Front Street in Lāhainā, where hundreds of shops showcase everything from fine art to knickknacks. If special, locally crafted items are your preference, take a drive to Wailuku's Native Intelligence or Hot Island Glass in Makawao or visit one of the many outposts of Maui Hands.
Looking to stay at the resort? Fairmont Kea Lani offers a variety of shopping experiences for every taste. Makana Market + Cafe highlights local artisans and crafts from across the island chain. Ka Lā Beach showcases collections from top designers for men, women and children. Willow Stream Spa's boutique features luxury skincare and beauty products, along with a fine selection of athleisure wear and jewelry.
3. See A Movie
You won't be the only one making a rainy day a movie, so buy tickets early if you want to head to one of the local theaters. You'll find the largest selection of films at Kahului's Regal Maui Mall Megaplex, which has 12 screens. Nearby, Consolidated Theatres Ka'ahumanu has a few screens as well. In Kīhei, Regency Kihei Cinemas has multiple screens and regularly shows three films. A more relaxed idea is to make movie day in your hotel suite or villa. Order lunch or dinner to your suite or villa, prop up the pillows, and relax over an on-demand film without ever having to put on shoes or a jacket!
4. Visit TheAquarium of Hawai'i At The Maui Ocean Center
Maui's Aquarium of Hawai'i is the largest tropical aquarium in the western hemisphere, so it's rightfully an attraction on any day. But since half of its attractions are indoors and it offers allure for the whole family, it's especially popular when skies are gray. After all, on days you can't be in the water, why not learn all about it and the species endemic to the Hawaiian Islands through exhibits that take you from living reefs to the open ocean. Buy tickets in advance and expect up-close encounters with everything from jellyfish and stingrays and turtles, tropical fish, and hammerhead sharks.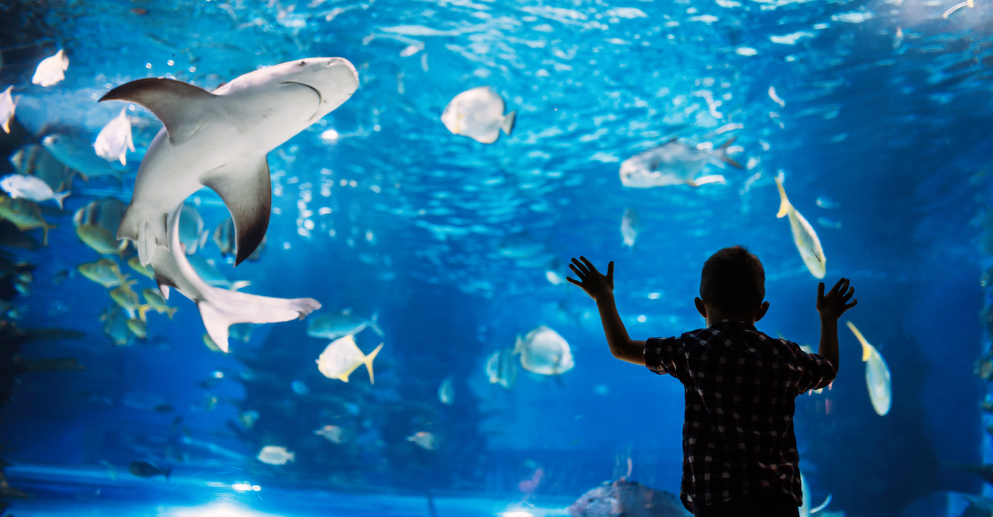 5. Linger Over Local Libations And A Meal
You'll have no remorse for missing prime beach time during the rain, so why not get a front-row seat somewhere where you can watch the weather unfold while lingering over local libations and a meal? Some of our favorite rainy-day spots include our very own Kō Restaurant where you can taste a variety of local spirits, brews and wines including Ocean Organic Vodka, Kupu Spirits, Maui Brewing Co. and Maui Wine along with island cuisine inspired by the plantation days of Maui. Take a short drive into Kīhei to Maui Brewing Company's brewery and restaurant to enjoy flights of island brewed ales and lagers, hard seltzers and craft sodas.
6. Visit The Hawai'i Wildlife Discovery Center In Whaler's Village
Along with shops and restaurants, Kāʻanapali's Whaler's Village mall is home to the 5,000-square-foot Hawai'i Wildlife Discovery Center. This multimedia educational center leverages art and science to celebrate and educate about the islands' marine life, cultural values, history, and conservation efforts. With dozens of interactive video-exhibits and a Kid's Zone with opportunities to make art from marine debris, this can be a fun experience for the whole family—and it's surrounded by boutiques to browse, too.
7. Take An Art Class
If creative productivity will brighten your rainy day, you've got three art-class options, all of which will have you departing with your very own Maui-made memento. At Moana Glass in Kahului, a private glassblowing class allows you to select from various design options and glass colors and make your own piece. In Kihei, Island Art Party combines cocktails, paintbrushes, and step-by-step instructions on how to paint the image of the day alongside other students. In Wailea, Paper Garden offers frequent creative workshops.
8. Enjoy A Couple's Massage
Since the caress of the ocean is not optimal on a rainy Maui day, how about a different kind of luxurious pampering? A couple's massage at Willow Stream Spa at Fairmont Kea Lani offers locally inspired massages for two, customized to your desires. Ask for the addition of Maui vanilla cocoa body butter or opt for the cryotherapy technique of using cool, calming porcelain shells. Schedule the experience inside the award-winning spa and plan time to enjoy the showers, steam rooms and mud bar in the women's and men's lounge. Shop the Willow Stream Spa Boutique and continue the wellness recharge back at your suite or villa.
9. Seek Rainbows
Rainbows are a regular part of the Maui landscape, but they're especially resplendent—and abundant—after the rain. Enjoy them from your hotel-room lanai until the weather breaks, then stroll the Wailea Coastal Trail to see how many you can spot as you take in the ultra fresh Maui air. Or watch as the weather unfolds from our state of the art fitness center's floor to ceiling windows and panoramic views extending from the iconic architecture to the Pacific Ocean.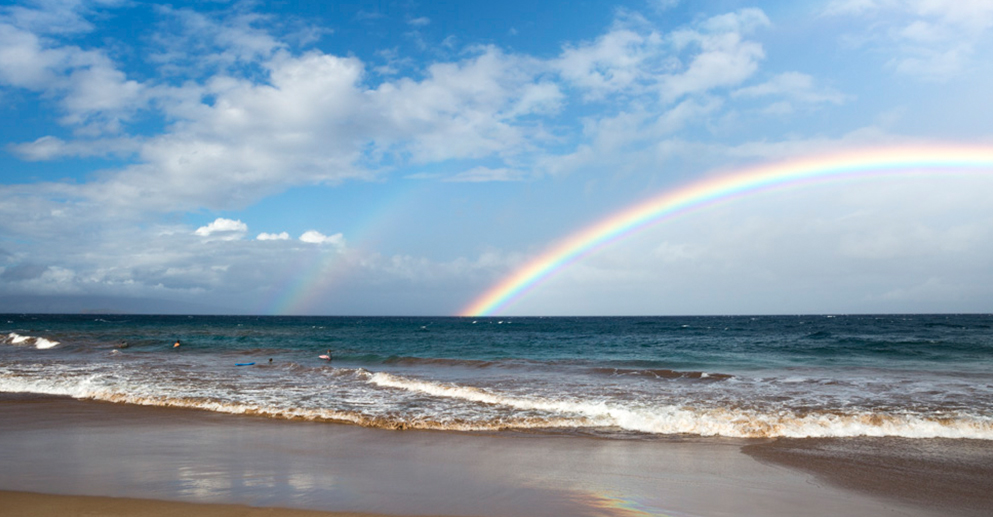 Please always check weather conditions before heading out on the road and traveling across the island. Depending on severity of rain, it may be recommended to not travel to some of the areas highlighted in this post.